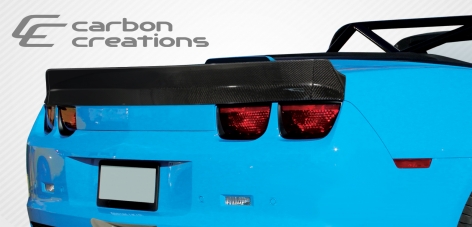 CLICK THUMBNAILS TO ENLARGE
Copyrights/Trademarks

All content distributed and created by Extreme Dimensions, Inc., such as images or videos are the property of Extreme Dimensions, Inc., and are protected by U.S. and international copyright laws. Any unauthorized use of the materials appearing on these sites may violate copyright, trademark, and other applicable laws, and will result in criminal or civil penalties.

2010-2013 Chevrolet Camaro Carbon Creations Tjin Edition Wing Trunk Lid Spoiler - 3 Piece
Product Description
2010-2013 Chevrolet Camaro Carbon Creations Tjin Edition Wing Trunk Lid Spoiler - 3 Piece
One of the top up and coming designer within the automotive industry, Neil Tjin has been involved in the sport compact market for more than a decade. Over the years Tjin and his talented staff have been responsible for designing and building more than fifty high profile vehicles, showcasing their creative talents. In recent years Tjin has also teamed up with major OEM manufacturers such as Chevrolet, Pontiac, Scion, Ford Motor Company and Honda North America. Wanting to pursue his automotive dreams, Tjin and his family made the move from Florida to Southern California. Tjin's overall talents brought him numerous accolade including the 2004 Industry Person of the Year, and 2005 SEMA Person of the Year. Tjin wants to continue helping the automotive industry grow, and his goal each and every year is to reach out to thousands upon thousands of consumer, spectators, and fellow enthusiasts through shows, the internet, and magazine coverage. Tjin's visions and passion portray what the automotive industry is all about.
Fits the following models: Fits All Models, Base Model, LT, RS, SS, ZL1
Carbon Creations is one of the most sought after brands by motorsport professionals. All Carbon Creations aerodynamics are manufactured to the highest quality standard to ensure proper fitment and durability. Every part is made with Grade "A" carbon fiber and finished with a premium clear coat for UV protection. Carbon Creations parts are up to 70% lighter than OEM parts, increasing performance and style. Whether on the track or at the show, Carbon Creations has what you need.
100% Grade "A" Carbon Fiber
High Gloss Finish
UV Coating
Maximum Strength & Durability
Authenticity Badge
General Instruction Guide
Hardware Kit
Up To 70% Lighter Than OEM Factory Parts
1 Year Limited Warranty
High Quality Mesh Grille (where applicable)
For more information, please visit our Carbon Creations page.

Submit Your Pictures for Money!
Rules:


Submit your pictures to pictures@extremedimensions.com and earn up to $250.00 USD (in the form of a Gift Certificate).
Submit a picture of your registration to prove ownership of vehicle.
By submitting your pictures, you agree to let Extreme Dimensions use them for marketing materials.
Compensation amount will be determined by Extreme Dimensions depending on the quality and quantity of images used.
You will be contacted, given compensation, before any pictures are approved and used on our website.
Products must be painted and installed on your vehicle to qualify.
Other restrictions apply.
Tips:


Submit pictures 300dpi quality or greater. We won't use low quality pictures.
Make sure pictures are clear so that we can see as much detail as possible (carbon weave on carbon products, lines on body kits, etc.)
Use our website for reference on angles
Vehicle should have other exterior enhancing modifications (wheels, suspension, etc.).
The better your picture looks, the more likelihood we will use it on our website.
pictures@extremedimensions.com

Follow these easy steps to order your gift certificate
In stock products are guaranteed to leave our warehouse within 48 hours or receive a FREE gift! Not valid on Saturdays, Sundays, and other Holidays. Local delivery and pickup orders do not apply. Ad must be mentioned at the time of purchase (except for online orders). Time starts at end of business day of purchase. Other restrictions apply. Call your sales representative for more details.
Out of stock items generally take 2-3 weeks to become available. Within two business days of placing your order you will receive an estimated time arrival of when the products will be in stock. Please call our customer service department at 888-611-AERO if you have any questions.